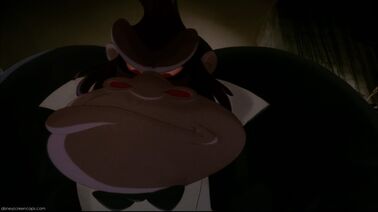 Bongo
(voiced by Morgan Deare) is a cartoon ape bouncer of The Ink and Paint Club. The password Eddie used to get in was, "
Walt
sent me." and the gorilla let him in. He also threw Eddie out of the club for taking the pictures of Jessica and Marvin playing
pattycake
. He is seen again in the deleted pig head scene where he knocks Eddie out cold for sneaking back into Marvin's office. He was supposedly a henchman of Doom by the time, until the final scene, where he was seen with the other toons. It could have been possible after Doom's death that Bongo reformed and is now good.
Ad blocker interference detected!
Wikia is a free-to-use site that makes money from advertising. We have a modified experience for viewers using ad blockers

Wikia is not accessible if you've made further modifications. Remove the custom ad blocker rule(s) and the page will load as expected.