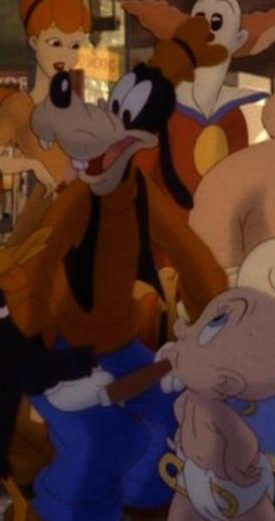 Goofy is a famous
toon
from the Walt Disney Studios.
Voice: Tony Pope (under the archival recording of Pinto Colvig), partially Bill Farmer
Description
Edit
Goofy is a tall dogfaced toon actor, typically wearing a strange hat and orange and blue clothes. Though he is best-known for his role as the tritagonist of the Mickey Mouse cartoon series, he also stars in his very own cartoons, such as Goofy Gynmastics.
At the beginning of World War II, he was accused of being a (presumably german) spy, but contacted private detective Eddie Valiant who cleared his name.
Roger Rabbit considers Goofy one of the best Toon actors.
He appeared at the end of Who Framed Roger Rabbit alongside with other cartoon stars.
Ad blocker interference detected!
Wikia is a free-to-use site that makes money from advertising. We have a modified experience for viewers using ad blockers

Wikia is not accessible if you've made further modifications. Remove the custom ad blocker rule(s) and the page will load as expected.