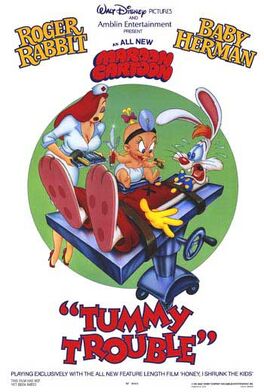 Tummy Trouble
is a 1989 film, starring Roger Rabbit, Baby Herman, that was known before the feature Toy Story.
This is the first of three animation Roger Rabbit films, produced after the 1988 Touchstone Pictures Film, Who Framed Roger Rabbit. It was made by Walt Disney Pictures if Amblin Entertainment.
Ad blocker interference detected!
Wikia is a free-to-use site that makes money from advertising. We have a modified experience for viewers using ad blockers

Wikia is not accessible if you've made further modifications. Remove the custom ad blocker rule(s) and the page will load as expected.